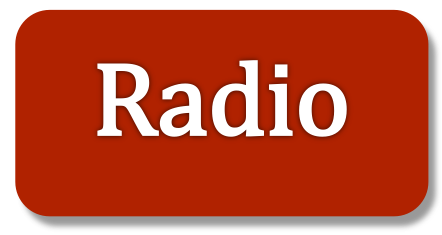 This is the place for information about my current radio projects and ones from previous years.

RADIO SERIES WRITTEN BY ME

RADIO SERIES NOT WRITTEN BY ME
(BUT THAT I HAVE BEEN IN)


TALKING AND NOT TALKING - 2007-09
I played some characters and wrote a couple of things for three series of Laura Solon's award-winning comedy show. She writes and performs extremely funny monologues and sketches (she won the Perrier Award in Edinburgh in 2005) and I was thrilled to be involved in such a great programme. Produced by Colin Anderson.
Also performing were Ben Willbond and Katherine Parkinson. Rosie Cavallero featured in the second and third runs.
CDs of the first two series are available at amazon.co.uk
.
---
THE MALTBY COLLECTION - 2007
I played an old friend of the main character in the second episode of this Radio 4 sitcom and it was an absolute delight.
The series is about an art collection and the characters around it - my episode featured a march and a football match. The cast was full of stars such as Geoffrey Palmer and Julian Rhind-Tutt, but the main joy was being in something written by the great David Nobbs, creator of Reggie Perrin among other things.
Something I'm very proud of.
Also available at amazon.co.uk
---
RADIO PANEL SHOWS
QUOTE. . . UNQUOTE - 2001-08
During the Edinburgh Festival 2001, I recorded a couple of episodes on Nigel Rees's quotes quiz and it was a blast. I had no problem recognising quotes from Star Wars and Trainspotting, but there were a couple of tricky ones involving Popes and Generals. I was asked to bring a few quotes in myself and I chose one from Edward Gorey -
("Always burn correspondence. Disregard everybody. Faint gracefully. Howsoever interpret John Keats. Learn macrame. Nibble only. Protest quid-pro-quos. Remember seasons turning. Untangle vines. Walk extensively yonder. Zero." -- Edward Gorey, "Thoughtful Alphabet No.4")
- and a couple from Mickey Rivers, including Poppy's philosophy from Poppy Day.
I was invited back two or three more time to make other appearances on the show and enjoyed myself enormously, sharing quotes from families and friends and favourite authors.
---
THE 99p CHALLENGE - 1999
I've known Kevin Cecil and Andy Riley, the creators of The 99p Challenge for years; it was Andy's original imp paintings that inspired the Modolia imps. So when they asked me to be on this show, hosted by the fabulous Sue Perkins I so agreed.
Pete Serafinowicz, Nick Frost, Armando Iannucci and Tom Binns and Simon Pegg were the other contestants on the shows I did and we had to come up with alternative bumper stickers, new cop show concepts, mnemonic rhymes and the like.
I explained the way I remembered the number of hours in each day of the week by using the rhyme:

Twenty four hours hath Sunday and twenty four hours hath Monday.
Tuesday and Wednesday hath twenty four, Thursday and Friday the same, no more.
Saturday hath twenty four hours too, in fact they all hath twenty four, the whole week through.

Where does the time go, eh?

---
RADIO PLAYS
COELACANTH - 2006
An adaptation of the
stage show
was recorded in the Spring of 2006 and was broadcast as the Radio 4 Afternoon Play on 13th October 2006.
Produced with great skill by Sally Avens, with music by Simon Oakes.
Here's a photo of me
in the woods where we recorded a lot of the script
---
THREE WISHES - 2002
Janice Phayre and I recorded a condensed version of the
play we performed
at the 2001 Edinburgh Fringe in January of 2002 and it was transmitted as the Radio 4 Afternoon Play on 2nd May 2002 at 2.15pm.
Sally Avens did another marvellous job directing the play and helping edit the text, and Simon and Adam's music really lifts it.
---
IS THERE ANYTHING YOU'D LIKE TO ASK US? - 1999
A late night half hour comedy piece for Radio 4 about the worst possible answer to that particular question. The job interview from hell, basically, going inside the interviewee's head as he drones on about what a suitable candidate he is while the interviewers drop off one by one.
I thought it had some good lines but it was caught between being a monologue and a radio play and as such can't be regarded as too successful.
Still, Sally Avens did a fine job of making it comprehensible to an audience.
Unrepeated and not really likely to be.
---
MY LAST WEEK WITH MODOLIA - 1999
An Afternoon Play production of the
stage show
I took to the Edinburgh Festival Fringe in 1998.
A romantic comedy about the love between a twenty something plastic surgeon and an 88 year old who shows him what he should really change about himself.
It was produced beautifully by Sally Avens and Simon Oakes's music is just gorgeous.
It got a great response from people listening to it who told me how much they'd enjoyed it.
---
SCIENCE ON THE RADIO
THE GREAT SWISS DONUT (1999)
This was a one-off special for Radio 4 where I went to CERN in Switzerland to report on the quest for anti-matter. It has always been a dream of mine to go to the particle research lab and to see the accelerators in operation was a great thrill.
The scientists were brilliant at explaining the experiments and the show was produced brilliantly by Paul Arnold.
---
THE BIG BANG (1996-99)
I contributed to five series of Radio 4's top popular science show.
Often I was doing little 'rants' where I'd look at a big science story of the week and put a humorous spin on it.
But by the last couple of series, Dave Green, Danny O'Brien and I were doing straight items for the show.
We would take a look at the science behind certain new movies (the ergot poisoning panic in 'The Crucible', light sabres in 'Star Wars') and give them a contemporary context.
In the final series we covered the science surrounding the turn of the millennium and the ways the arts and sciences can assist each other.
We also contributed to a special show celebrating the centenary of the discovery of the electron.
It was a fun series to work on - thanks largely to producer Sue Broome and host Jez Nelson who are just fabulous.

---
OTHER RADIO PROJECTS
THE ENTERTAINMENT SUPERHIGHWAY (1997)
This was Radio 5's late Friday night arts and entertainment review strand, presented by the lovely Katie Puckrick. I would do a little news round up with a few gags about the week's big stories. One time I was asked to do the show as an expert type figure to review movies and have opinions. I managed to like everything I was asked to review which probably wasn't what they expected, but that's kind of my style.
---
THE ARMANDO IANNUCCI SHOW
THE FIST OF FUN
Produced by Sarah Smith, I wrote a few gags and skits for the former and appeared in a couple of things on the latter.
I was the guy who painted the side of the Apollo 11 rocket. Oh yes.

---
THE BILL DOD HAPPY HOUR (1992)
Working with Jon Magnusson on Weekending led us (Murray, Moor, O'Brien) to provide scripts for this pilot for Radio 2.
We worked with Harry Hill on the script and a super cast included Bryan Bowles and Jonathan Kidd as well as the eponymous Mr Dod.
My favourite moment was the spitting circus acts, but it was a long time ago so maybe there were other good bits.
Radio 2 didn't like the show much, but the talent of the folk involved made it a special project.
---
WEEKENDING (1991-95)
When I first moved to London in 1990, Al Murray, Danny O'Brien and I started writing sketches for Radio 4's 'Weekending'.
This, we believed, was the time-honoured path to comedy writing celebrity and we had a lot of fun but not much celebrity.
We worked with some excellent producers - including Armando Iannucci, Sarah Smith and Jon Magnusson - and some of the sketches we wrote were pretty OK.
We stuck it out for a couple of years, giving up our commission when we knew that our 'Blue Helmets' sketch (about the UN's motorcycle display team bringing peace to war-torn Yugoslavia through skillful stunts) was never going to get on.
Our best moment might have been the Liberal Democrats trying to organise their 1992 election party in a brewery.
---
Information about other, unmade radio projects can be found on my
MISCELLANY
page.