THREE WISHES
2001

Flip and George meet, fall in love and hold a party to celebrate their engagement. The next day the Earth enters a weird cloud in space which gives everyone three wishes. And while everywhere they look they see flying pensioners and visions of glamour where previously walked the dowdy, what do they wish for? Things for themselves or for each other? And do the things they wish for bring them closer together or push them apart?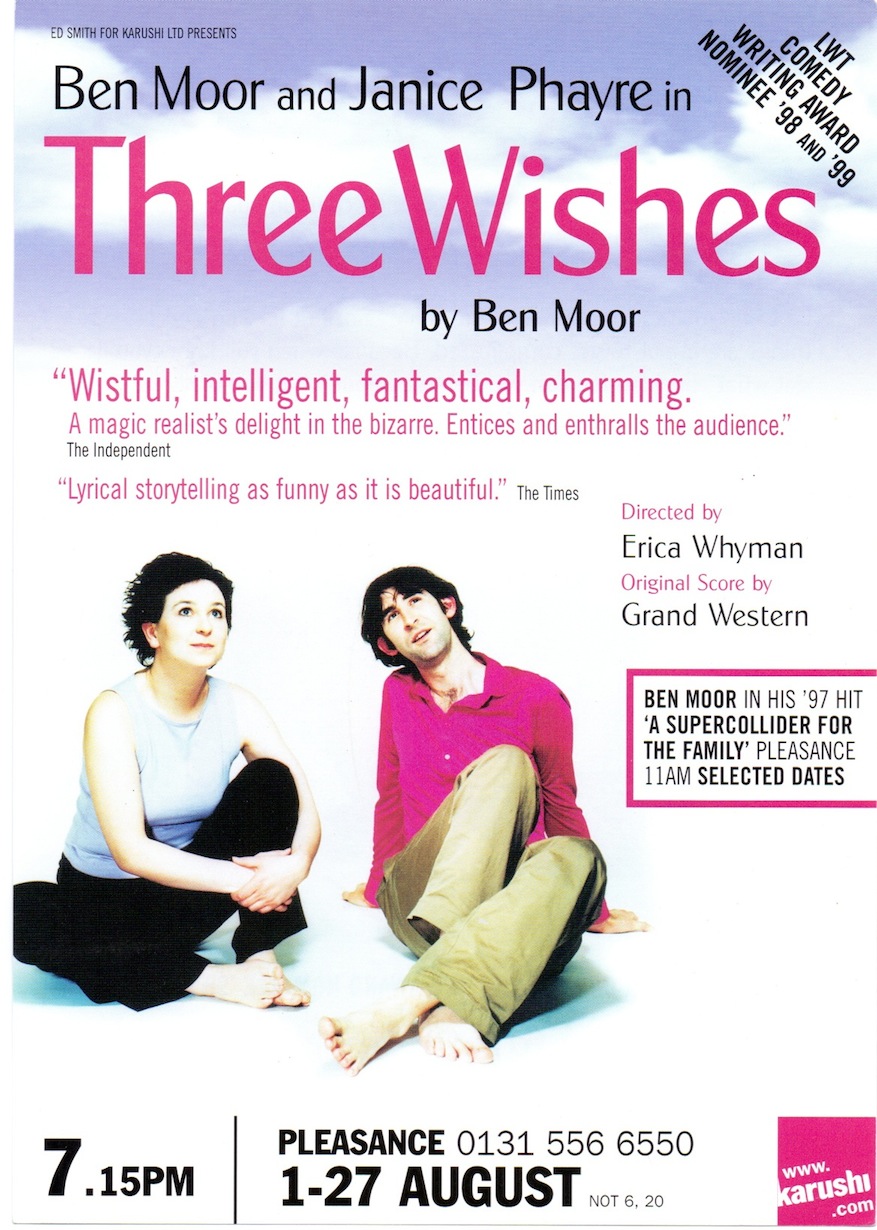 Well I wrote this in January 2000 with the intention of bringing it to the Edinburgh Festival in August of that year. But what happened was that I got offered a part in a proper play called A Busy Day which was to be done in Bristol and could have transferred to the West End afterwards. This it did and, thanks to great work by my agent Jane Brand, I got my name in lights on Shaftesbury Avenue (which made my parents very proud) and we ran for the whole of the Summer. Obviously this meant no Edinburgh for me that year. But I missed it so much and couldn't wait to do it again. So I thought, why not double the workload? Karushi agreed to back a morning show of 'A Supercollider For The Family' as well as taking up an actual play of mine. One with more than one character!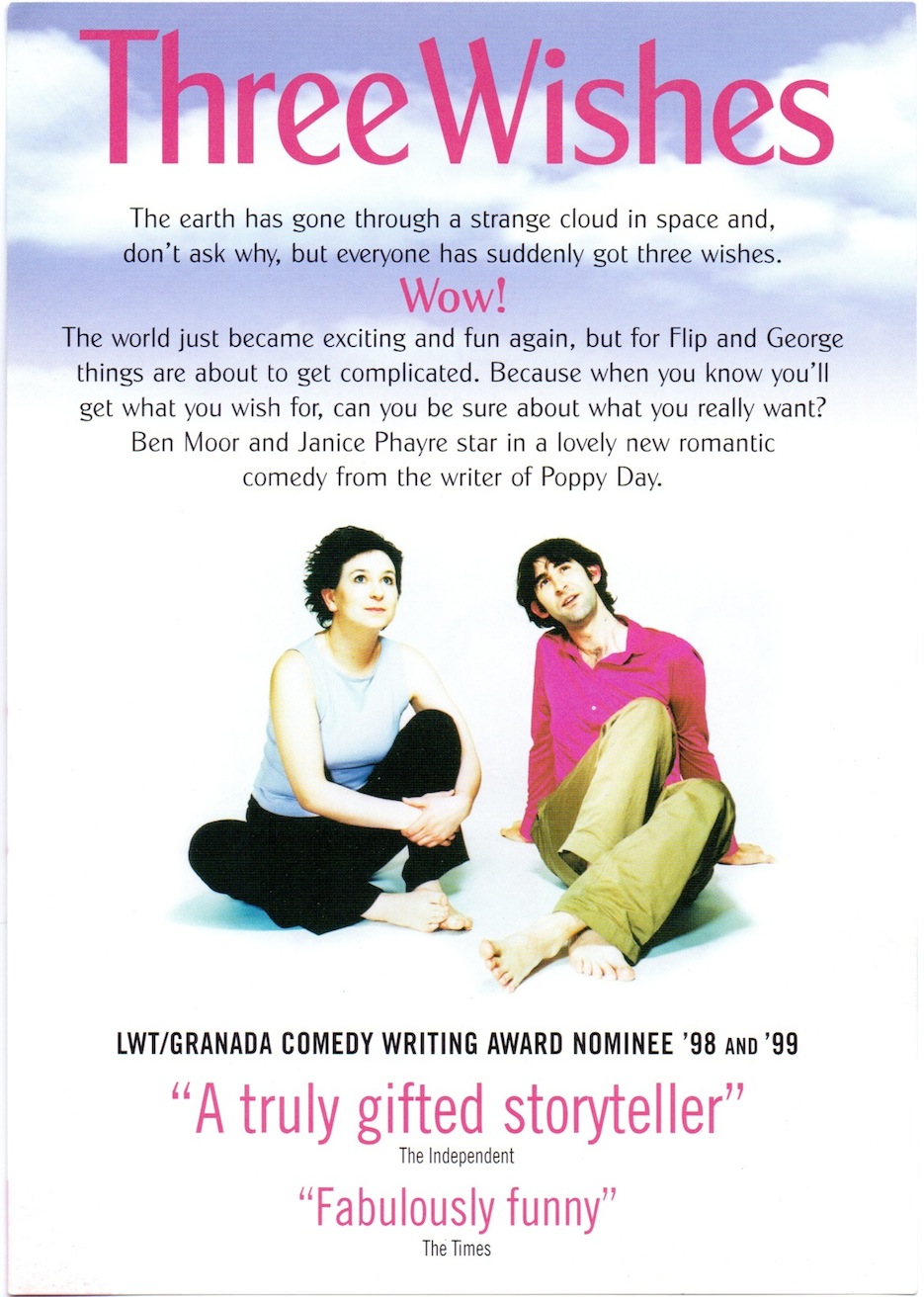 Although I had written another show in the meantime, the giant robot romantic triangle 'The Lengths He Went To,' 'Three Wishes' was further up the queue and it was Erica's preferred choice. I had written the part of Flip for the fantastic comedy actress Janice Phayre and she agreed to do the show, which was such a weight off my mind. She was absolutely brilliant too. So many men came up to me afterwards and told me how they had fallen in love with her - I had to tell them that she had a boyfriend back in London and they skulked off. Janice was so funny, so light and just a joy to be on stage with. The shows just flew by.
Erica Whyman did another brilliant job of directing me (and Janice too this time; I had to unlearn my technique of pointing to an empty chair for times when another character was with me - she was right in front of me!) and more than a few people commented on how tenderly it was directed. Naomi Dawson designed the set and costumes and was just fabulous. She made globe lights out of coloured paper and marshmallow stools out of duvets and weak wood from Habitat. Marvellous. Malcolm Rippeth excelled even his own high standards with a lighting design that was atmospheric and moving. Simon Oakes and Adam Wolters wrote a fabulous score for the show which added so much to the mood. And Emma Barrow was the perfect stage manager - calm and completely in control at all times. Brilliant.
The show ran for two nights in early October as part of the Pleasance London Edinburgh Festival and it got a great reception. Big audiences and happy faces. Radio 4 broadcast it as an afternoon play in May 2002, and there was a production in Ashland, Oregon about a year later.

If you're interested in reading the play, or maybe putting on a production (1F 1M - 60 minutes) send me an email.

UPDATE
In 2014 the theatre companies Bottega Rosenguild and Offrome translated the play and toured a production around Italy. I was lucky enough to see the brilliant cast perform it at the Collinarea Festival in July 2014 and at the Teatro Orologio in April 2015 in Rome.
Pages and photos of the Italian show are available
HERE
and
HERE
.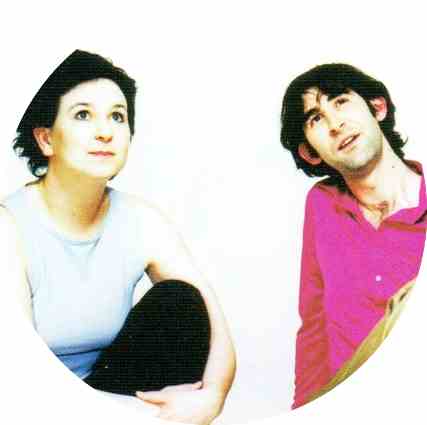 "OH, THIS ISN'T A STORY OF MAGIC AND WONDER AND ALL THAT"
Read a script extract from Three Wishes
---
---
---
PURCHASE SOUNDTRACK CD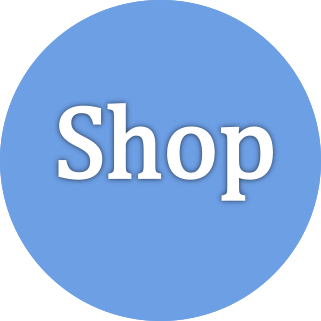 Almost the Right People (containing music from many of my shows) is available right now from my webshop
---