A SUPERCOLLIDER FOR THE FAMILY
2001



A scientist, working for the Military Industrial Entertainment Complex is given the mission to build a Supercollider for the family. We follow his globe-trotting exploits as he puts together the machine and meets various other agents. Meanwhile his wife is walking around the world on a tightrope and his feelings for her contrast withg his thoughts about particle physics and his employers. But how will his Guardian angel bring everything together?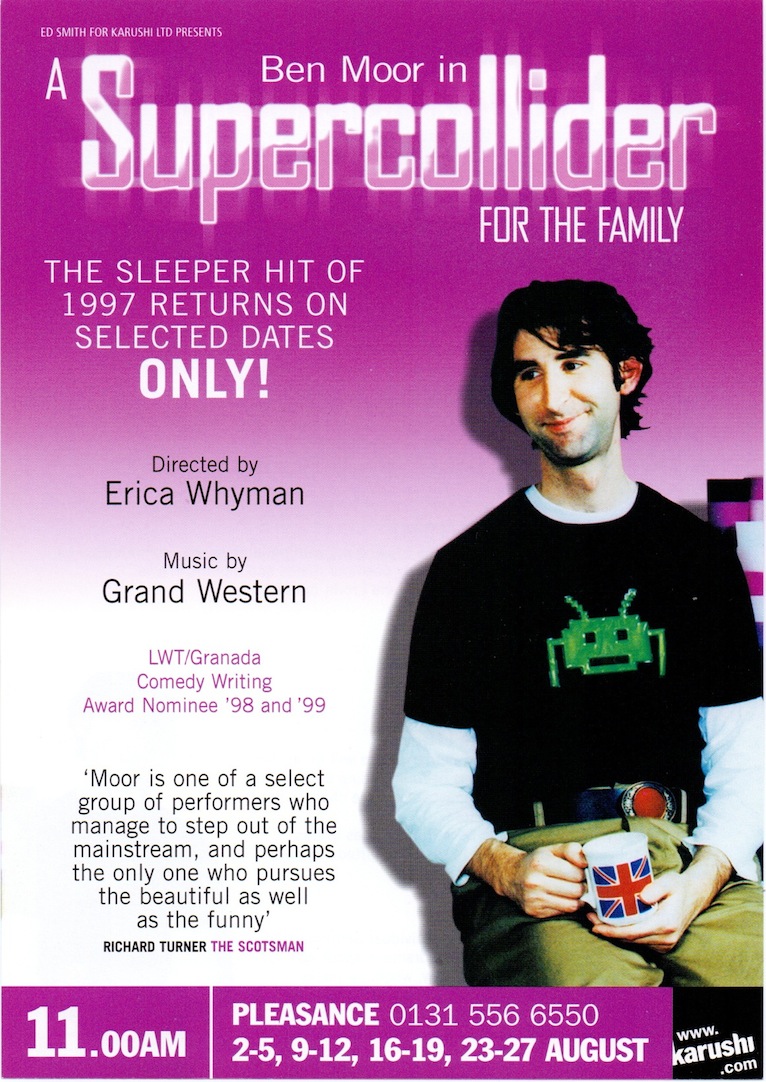 Well, this was the second Edinburgh run for this show and while there were a couple of small script changes, it was pretty much the show that ran for 11 days four years previously. As I mention on the other page I only put it on for those days as that was the slot Mel and Sue couldn't do the whole 1997 Fringe. I'd been working 18 months straight and I really needed a break and it was a friend's birthday in New York and I so wanted to get out there. I did a coast to coast Greyhound thing afterwards, visiting Chicago, Mount Rushmore, Seattle and Portland and ending up in San Francisco. Fab.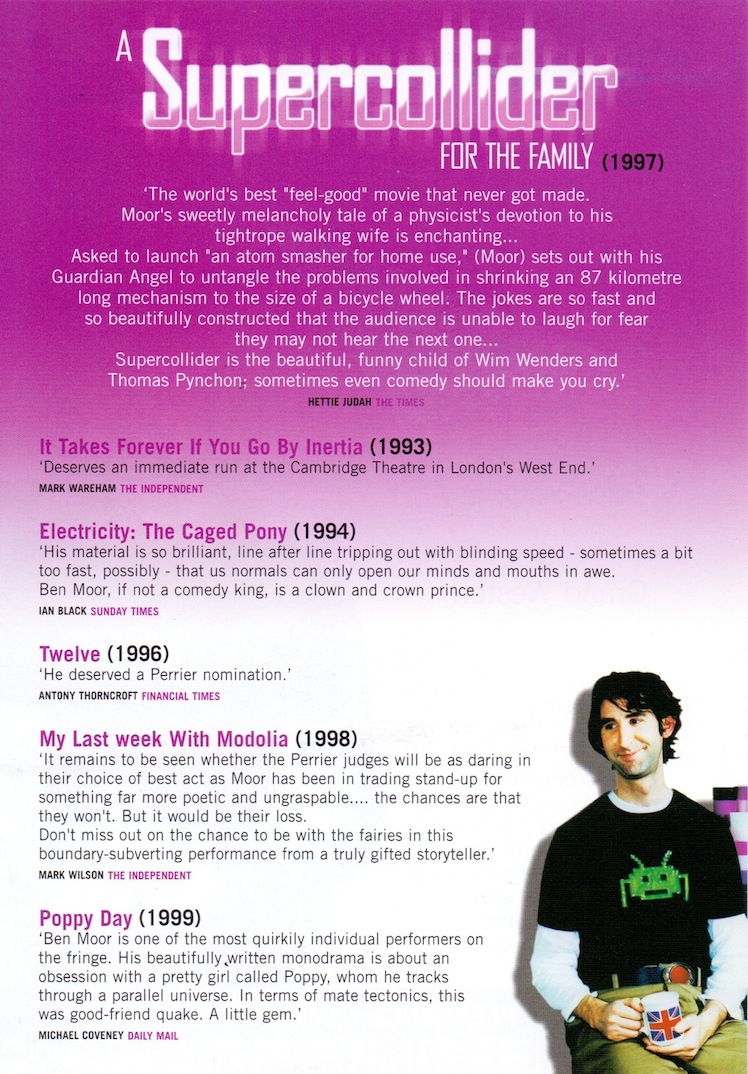 Back to the point though. The 2001 run went really well. It was a bit of a chore getting up for an 11am performance in the Festival City, but once I got to the theatre I couldn't imagine starting the day in any better way. Audiences were smallish to begin with but averaged 30 or so in the last week and while no one's going to really have a belly laugh at that time of the morning, the reaction was always pretty good - lots of applause at the end and lots of smiles on the way out.
Andy Lane took the cool photo for the flyer for this version. Erica Whyman's direction was inspiring again, Simon Oakes's music was just brilliant and Malcolm Rippeth's lighting was delicate and precise. Emma Barrow was a great stage manager - I don't know how I'd have got through it without her. Loads of people came up to me afterwards and told me they'd loved the show and that made it all the better for me. I spotted badge wearers and always made it a point to go up and thank them for coming to the show. I do have some of the 'for the' badges still.
Also, if you buy a copy of all my print books from me, you get a free badge - swell!

I ran it again at the London Pleasance Theatre in early October 2001 and it got a super response once more. I took it to the Latitude Festival in 2007 (with live music played by Suns of the Tundra) and the Green Man Festival in 2012. The brilliant Thom Tuck performed it at the Edinburgh Fringe in 2008 and if you're interested in putting it on, as ever,
email me!