An Edinburgh show takes a lot of planning from at least six months ahead, and, after Coelacanth in 2005, I found that for the next couple of years other projects took up a lot of time. The two series of Undone, Dollby City, my work for Teachers TV – all these things came up at a stage in the year when I could have been working towards an Edinburgh show in either 2006 or 2007. And I didn't want to do a show I didn't totally love, so I skipped those years. But in early 2008, things looked right for a new production – there was no news on Undone and it just felt like the right time again - so I knuckled down, talked to the Pleasance about a slot and ground out a concept, a script and a title. All around the February and March.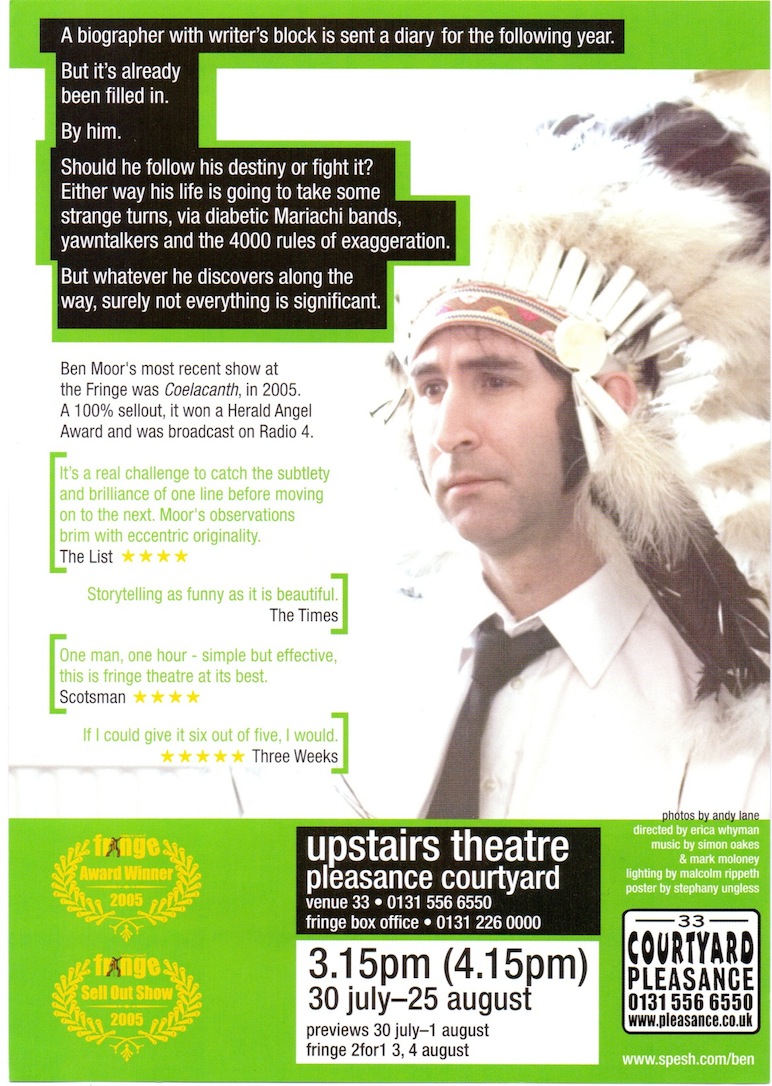 I'd had an idea about a biographer who receives the index of his own biography and I'd noodled on it for a while, but it wasn't quite coming together. It needed a central tension, something driving the story. So the index became a diary, an unfinished one – something that had to be investigated over the course of its own time scale. Which brought in ideas of time and fate; a lot of the images and joke particles I jot down over the course of a year were, interestingly, related to this theme and could therefore be built into and around the story. But it still needed an extra element. One of my favourite books is House of Leaves by Mark Z. Danielewski, and I guess at the back of my mind I recalled the levels of storytelling he mixed up. I'd written a piece for All The Rage's October 2007 issue about great outfits in comics as if it was a series of footnotes for an unwritten, longer article, and so thought, why not footnote the biographer's story with an extra layer of information, disinformation and maybe a new layer of plot.
The title came to me while I was walking to Dalston to tell the story of the Museum of Lost Gloves at Robin Ince's School for Gifted Children – it just seemed to be a phrase that summed up what the show could be about, as well as being striking and memorable. And once the title was there and the structure, the script came together fairly quickly – it was a little less a month between the first messy draft and a version I could send to The Pleasance to try and book a performance slot.
The story is deliberately ambiguous. It's written in such a way that an audience member can decide one thing about the events as presented in the piece, and the next person might come to a totally different deduction. I don't want to go into too much detail to avoid spoilers, but if you've come here for an answer as to what happened to who or who wrote what and when, well, there is no exact answer. There are at least valid three solutions to the mystery that are consistent with "the facts" but every time it looked like the story was untying itself, I consciously added a level of entangling. Not for the sake of frustrating anyone, just to make it more open to consideration. And after the show I spoke to lots of people who told me their interpretation of the story, and all of them were as good as each other. I don't think I even know what exactly happens in the show, but it touches me when people put time and thought into coming up with a solution.
So the show: the head-dress was a gift from a close friend who had seen an old shot of me wearing one at a Cowboys and Indians party and knew I loved it. How brilliant was she for getting me that? A Lovely Person. I bought a hat stand from a futon shop on Tottenham Court Road and re-used the table from Coelacanth. The laptop had been left behind by a former flatmate and, like all the paper in the show, was blank. I got a diary (also blank) and bought a piece of material to create a space for the footnoter.
Andy Lane took a great set of photos in my flat, featuring the head-dress and my miserable or confused face, and we got a few very striking images. Stephany Ungless then created a wonderful poster and flyer – more than a few people at the Fringe told me it was their favourite image. If you want a poster by the way, email me and I'll see if I can get one to you. Then Simon Oakes wrote some deeply beautiful music (with Mark moloney, also of Suns of the Tundra) to go along with the slightly downbeat but mysterious nature of the piece. Erica Whyman was waiting for me in Newcastle as I was on my way up to Edinburgh and we spent a long weekend, taking the play apart and once she'd put it together again with her touch it was a hundred times better. It's like working with a watchmaker who knows how each tick should sound and adjusts and tightens a piece you'd never notice was wrong. And Malcolm Rippeth then lit the show for the Pleasance Upstairs as if the room was designed for it. Some gorgeous moments – isolating the footnoter, the Essex carpark – brought out the theatrical side of things terrifically. And then there was Jen Lunn who operated the show sensitively and made me look great out there. Lisa Keddie also helped with publicity and the selling of the programmes to benefit Shelter.
Despite a London preview in June and a couple of performances at the Latitude festival in July (when Simon and Mark played the music live) the show opened in Edinburgh a little raw. I was getting very small houses for the first week or so and, although audiences were generally enjoying it, it didn't quite get to where it could be. Also, the weather the first part of August was dreadful – as a one man leafleting team (as well as producer, actor, writer etc) it was hard to drum up the right crowd. But I knew the show was strong, it just needed a bit of confirmation. Then a lovely review in The Guardian came out and that marked a turning point. Numbers picked up and other reviewers came in a state of mind to appreciate something that isn't quite comedy, nor theatre, nor straight storytelling, but a bit of all of those. By the end of the run, the show was going very well and the fact I sold out the last day of the entire run gave me great satisfaction.
Post-Edinburgh, I performed it in London in October 2008 for a short run at The Etcetera Theatre.
But since then I haven't put it on again - partly due to the complexity of the props and staging.
Maybe soon. . .