More Trees to Climb has the texts of 3 of my other solo shows as short stories. There's Coelacanth, Not Everything is Significant and A Supercollider for the Family. The brilliant
Stewart Lee
wrote an introduction to me and my work and again there's a bit at the back of the book, kind of like a DVD extra.
More Trees to Climb costs
£8
(usual price £9.99) with
postage and packaging of £1.50 per book in the UK, and £3 for international shipping
. For that you get a signed copy of the book (and I'm happy to write any dedication you wish; maybe it's a present for someone?. If you leave no instructions in the box under the PayPal Button it will just contain a signature) and a free gift of an "I have more trees to climb" badge, posted to anywhere in the world, by First Class post in the UK and by Royal Mail Small Package Airmail abroad.
ALMOST THE RIGHT PEOPLE

And I am also selling a Compact Disc called
Almost the Right People
. It's full of music by Simon Oakes and his various collaborators in his bands Grand Western and Suns of the Tundra. He was in Rock Monsters 'Peach' (an offshoot of 'Tool') and he's written the scores to my shows for many many years now. In 2009 we put together a selection of tracks from the soundtracks of the stage pieces along with music he developed inspired by my stories and it's a lovely thing.
Now if you'd like a combination of the above items, it gets tricky for Paypal to understand, so in the drop-down menu it looks like the options at a Fast Food Restaurant.
You know how this sort of thing works.

You automatically get a
£1 discount for buying more than one item
- that's cool, right?
For the combo packs I've kept
P&P costs to a flat £3 for the UK and £5 for worldwide.
All the combinations feature extra free gifts of badges, maybe a postcard, some new bit of writing or something.
NEW FOR 2019!

If you've seen
Pronoun Trouble
(or even if you haven't) you may be in desperate need of a collection of badges displaying some of the key words from the show. Well, your desperation ends now, as I'm selling packs of five badges to satisfy your empty lapels.
Behold: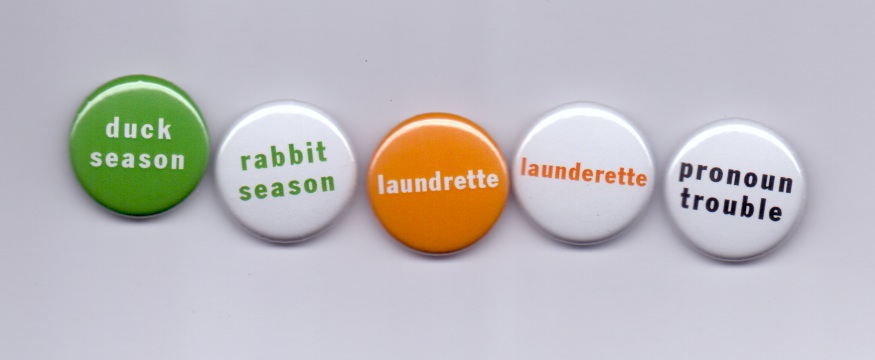 They are 25mm in diameter and say "duck season," "rabbit season," "laundrette," "launderette" and "pronoun trouble," all in post-modern lower case text, and are made of a metal.
Each set comes in a small clear plastic wallet, and is priced at just
£4
plus
£1 postage and packaging for the UK and £2.50 postage and packaging worldwide
, making a total of
£5 for UK customers
and
£6.50 for international customers
.
Badges are way cool.
And if you'd like a video download of the show to go with a set of badges, I can sell you that too.
A recording of Pronoun Trouble was made by the excellent people at Go Faster Stripe at Chapter Arts, Cardiff on 24th February 2018 and can be yours to own forever. Here's a couple of screen captures: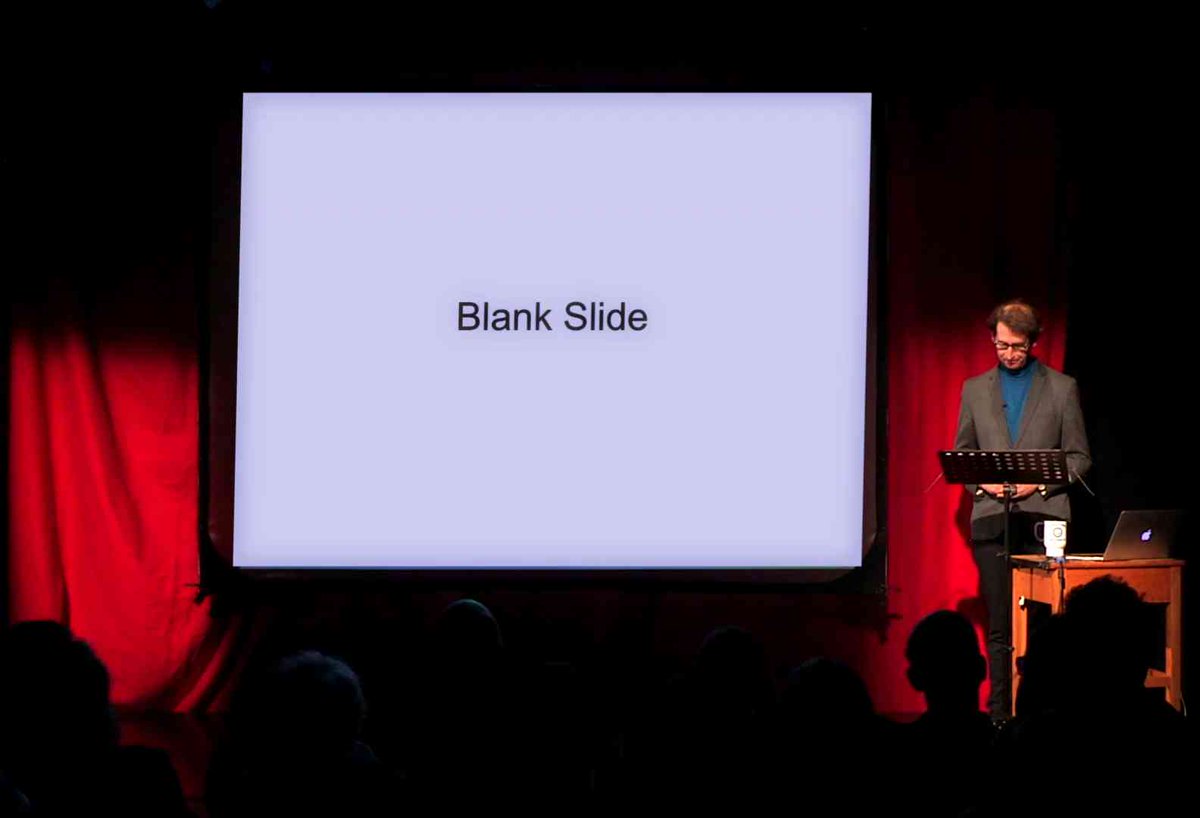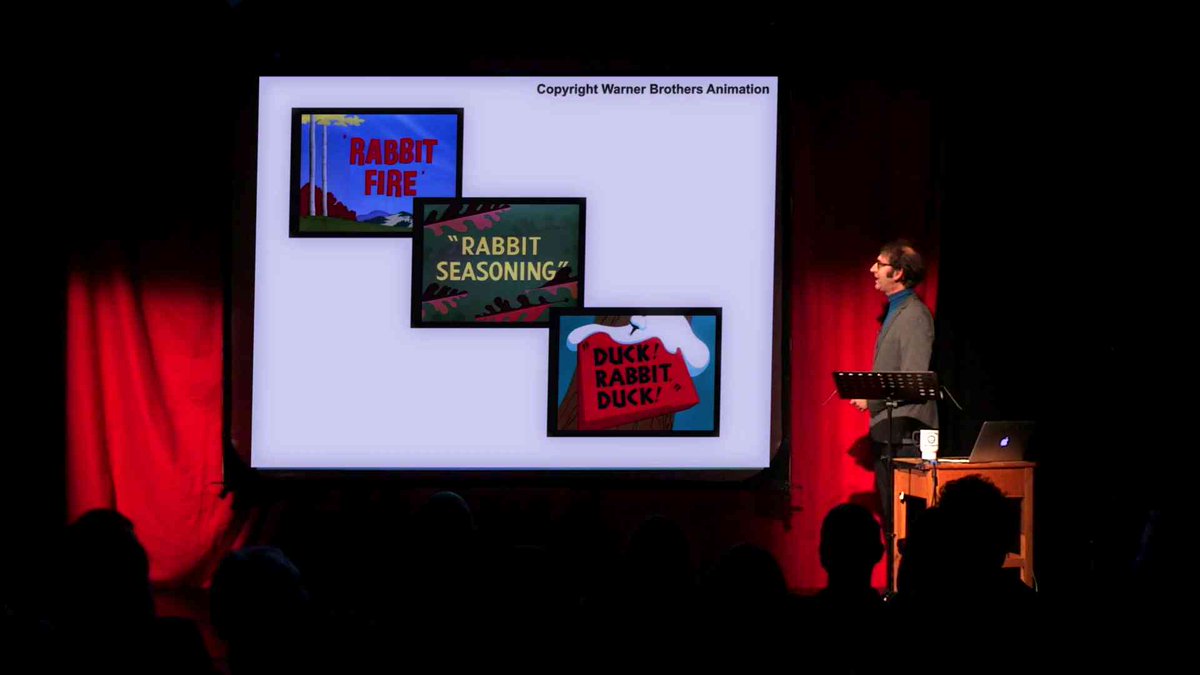 It's super-nice and comes with extras - and is totally available from the
GFS shop page HERE
.
But if you'd like me to send you an envelope with a pre-approved download code (and instructions on how to get the show) as well as a set of badges, I can do that for you today for the low, low price of
£7
. Plus
£1 postage and packaging for the UK
and
£2.50 postage and packaging worldwide
, making a total of
£8 for UK customers
and
£9.50 for international customers.
If you hate hanging around for post to arrive and can't wait to get your eyes on the show, do please purchase it from
GFS
- it's cheaper but they don't have the badges!
THE COUNTER

So OK, now here comes the actual shopping bit.
Choose your location and your purchases just here below, add them to your cart and, with a swift click, you'll go to a secure page at
PayPal
and they will sort out your payment.
Like a pal.